Stronger CCTV security, deeper surveillance and investigations, but with no CCTV privacy concerns.
Ethical AI Deep Learning Neural Networks.
Viseum's CCTV security and surveillance is the patented step-change addressing the public's major concern of CCTV privacy. This patent bridges the very large gaps between, and solves the many intrinsic problems with, standalone CCTV security systems, manned surveillance services and manned guarding security patrols. This is why the UK's National CCTV Strategy Board recommended the use of Viseum cameras in their latest National CCTV Strategy Report.
CCTV Privacy – Unlike a CCTV operator who targets people for the way they look, Viseum's camera automation targets people because of their location and behaviour related to their surroundings, and even then only the pertinent video of related faces and activity is accessible. There are 2 typical modes of operation for accesses video data under Viseum® Community SafetyWatch® privacy protocols:
Standalone CCTV Security (post-incident) – All video is encrypted using constantly changing algorithms, making it impossible for any unauthorised person to see. The video decryption will only function if it is related to a verified police crime number, and only then within a certain time period. The decryption key is only then shared amongst a minimum of 3 people, making it impossible for video to be seen without their knowledge.
Proactive Surveillance (live response) – Viseum cameras are instructed to automatically detect and report certain types of incident as they happen. For example; knife crime, potential suspects or confirmed intruders, and/or unauthorised vehicles entering and/or leaving the site, criminal damage including loitering, vehicle theft, public disorder, graffiti, etc.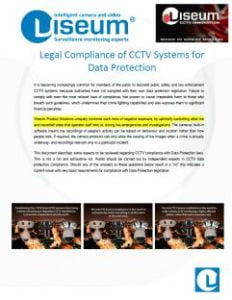 CCTV Privacy and Compliance Audits
CCTV Privacy Activists – Having a camera pointing at you naturally causes privacy issues, so wherever local authorities implementing standard CCTV there is likely uproar within the community. Viseum has lots of experience of these situations when Viseum cameras are deployed by local authorities. On occasions, communities create privacy activist groups, but when they contact Viseum to find out how Viseum cameras invade their privacy, they are happily surprised to learn how the cameras are automated and have such strict privacy protocols. Laying to rest privacy concerns and delighting communities, they see Viseum® Community SafetyWatch® as a way to improve their security, and prevent local authorities from implementing standard CCTV and snooping on them.
Viseum Camera Technology with CCTV Privacy
Operates 24/7/365 completely automatically, zooms into and follows multiple targets at the same time. Unlike a CCTV operator who has to do this manually and is the most expensive ongoing operational cost for remote site security. The CCTV operator is notoriously unreliable, failing to turn up for work and lacking concentration.
Consistently watches a complete 360° of activity everywhere in line-of-sight at the same time. Unlike a CCTV operator who can only see just the 1 target.