A mother has released terrifying CCTV footage of a van driver pulling up next to her garden in an "attempt to trick her three young girls into his vehicle".
The chilling video, belonging to mum-of-two Rechelle Haigh, shows her children Sade, eight, two-year-old Ameya and step-daughter Roxie, six, playing on a trampoline together when a man in a large white van appears.
He stops his vehicle nearby their garden in Partington, Greater Manchester before shouting over to the three girls whilst waving what appears to be a bag of doughnuts.
Ms Haigh's eight-year-old daughter Sade then heroically grabs her step-sister, Roxie, before going back for toddler Ameya, who can be seen innocently waving at the stranger.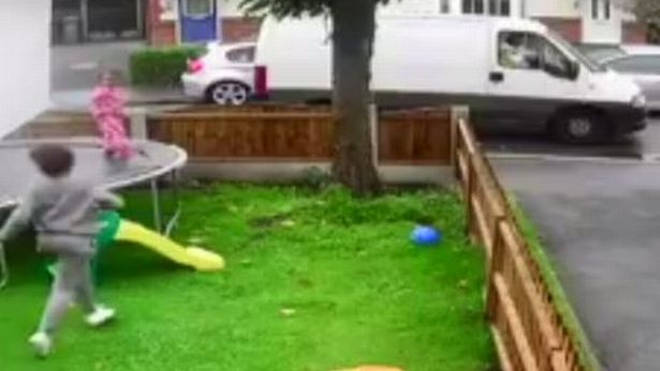 The terrified mother told The Sun that she shared the footage on Facebook in a stark warning to other parents.
 She said: "They were playing outside on the trampoline and I heard a screech, and it was him doing an emergency stop.
"I was sitting on my couch and I could hear him shouting 'come on, quick girls, come get some doughnuts'."
Rechelle reportedly confronted the man, who told her he was "just offering the girls some doughnuts".
She has now reported the incident to Greater Manchester Police who are investigating.